Associ8 allows you to automate the association between records in your system using fixed values or dynamic tokens.
See In App Store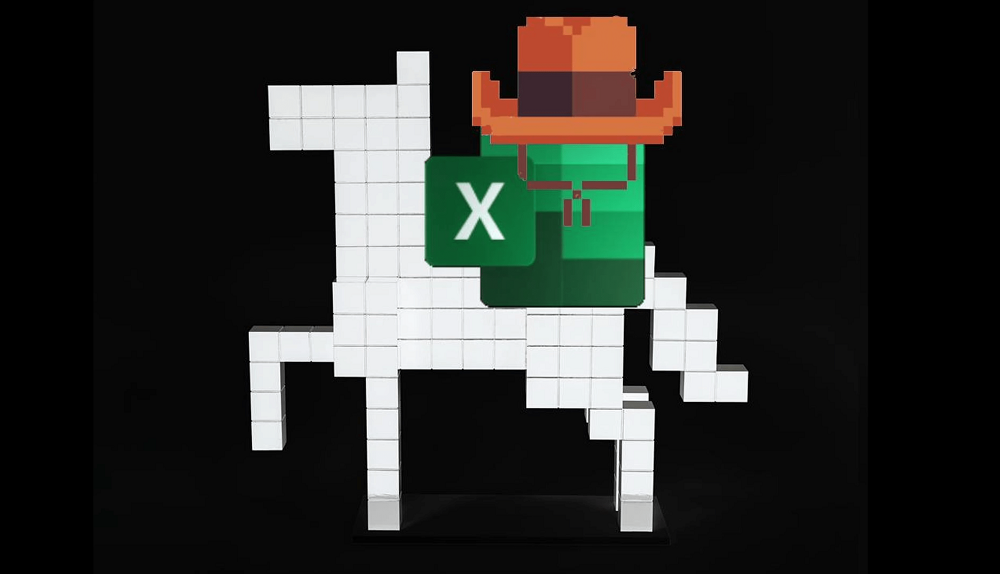 "Everything we wanted"
Associ8 is working well for our needs. There are several workflows we assumed were feasible with out of the box HubSpot that just turned out were in fact not possible and Associ8 has helped us overcome those obstacles.
Used by:



workflow associations
native to HubSpot workflows
Leverage HubSpot's powerful automation tools to find records by matched fields and create associations.
flexible associations
customize as needed
Associ8 supports both standard and flexible associations to allow admins to use it as a powerful platform tool to build complex automation.
no code automation
just point and click
Associ8 is entirely code free. If you can select a field from a dropdown, you can start associating your records and automating your process.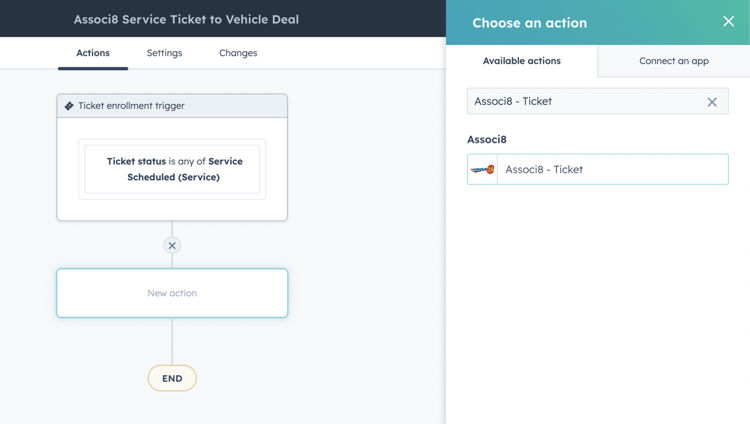 01.

associ8 workflow
right where you left it
Associ8 lives right in the workflow tools you use every day. Simply add an Associ8 step to your workflow to get started.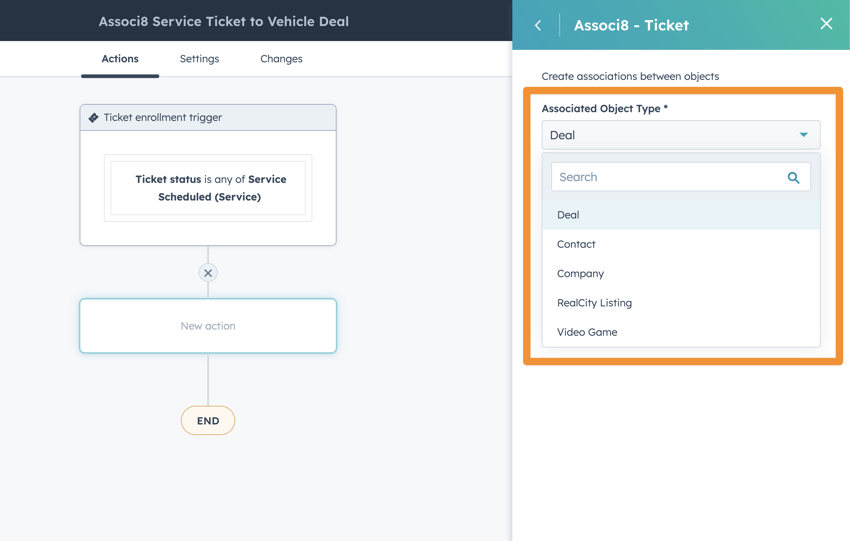 02.
select object
choose wisely
Pick which object you'd like to associate with the object that triggered this workflow. Note that like objects cannot be associated just yet.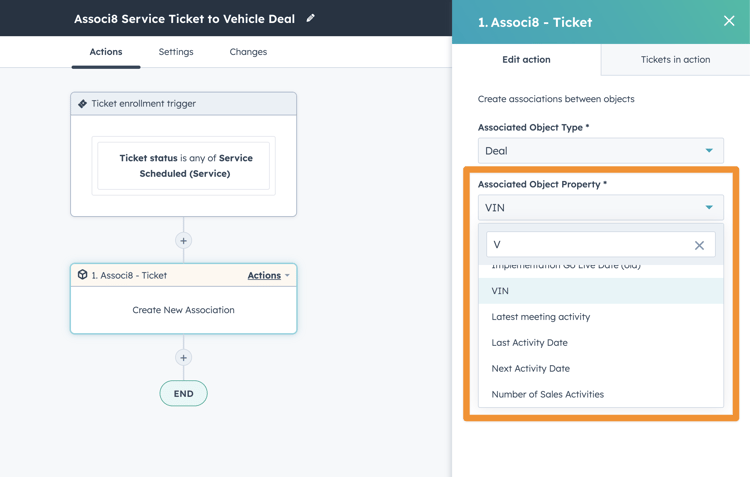 03.

s

elect property
the goal
You'll now select a property on your selected Associated Object Type to use for finding select objects with which to associate.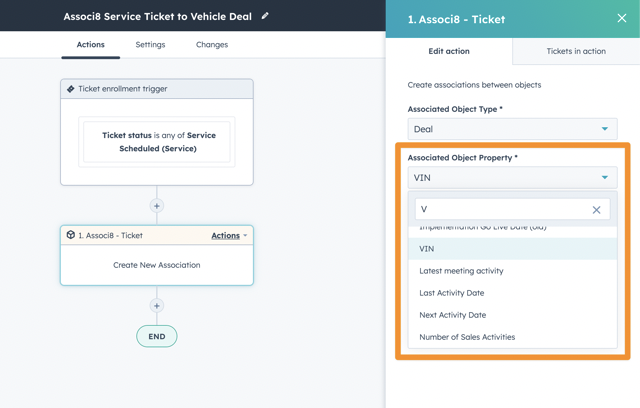 04.
enter search value
the matchmaker
Here you can choose a hardcoded value or a dynamic value from the source object to use in your search to find matches.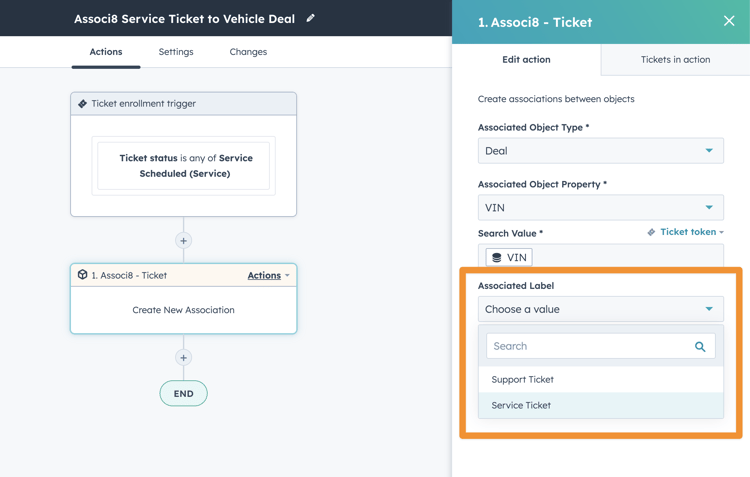 05.
add association label
yes we give labels
With the newly available Flexible Associations, you can add a pre-existing label to the newly created associations. Standard objects only.
---
what's included
standard objects
association labeling
50 associations per month
---
---
what's included
standard & custom objects
association labeling for standard objects
500 associations per month
---
for early-stage startups
pro
---
what's included
standard & custom objects
association labeling for standard objects
5,000 associations per month
---
for scaling companies
enterprise
---
what's included
standard & custom objects
association labeling for standard objects
unlimited associations
---
Great tool and addition to HubSpot
Associ8 association labels allow us to determine which contact on a deal record we communicate to and how we communicate to them through the finance application process. This has been a critical tool to allow us to achieve different types of communications to different contact records on the same deal. Without Associ8 the HubSpot suite would not have been suitable for our business.
Could not do without Associ8 plus excellent support
Before finding Asssoi8 I thought it would be difficult to get the full value of custom objects that I had built. Associ8 was exactly what I was looking for to be able to associate contacts that sign up via a form to event or project customer objects. There are some other user cases as well that they are looking to build out as well which will make this truly awesome! They have certainly made my life easier and ensure I and the company get the most value out of HubSpot.
Simple, Effective, and much Needed
Associ8 does exactly what it says it does. Being able to associate records in a workflow is a much-needed feature where HubSpot is lacking. They even included association labels as part of the feature which is incredibly helpful. Our business relies on this product to function correctly. There is also no risk at all to trying out this product on the free plan. Prices are reasonable otherwise. Had 1 issue while using this, but contacted support and they were able to hop on a call with me to troubleshoot. Great service!
what can we deliver for you?
Contact us today - we can't wait to work with you!